The year final is a massive face off between The New England Patriots and Philadelphia Eagles in Super Bowl 52 on Sunday Feb. the 4th. More than 100 million viewers are expected to tune into NBC's live TV broadcast of the NFL championship game and millions more will stream online, a colossal audience for brand  engagement in the US and around the world.
Advertisers scrambled for a space or slot to show case their product in the biggest sport event in the U.S. The Super Bow could be describe as the only annual media event where a substantial portion of the U.S population gathers at the same time in various locations to watch the same thing, which is why, its a commercial heaven for advertisers. a good portion of the 100 million viewers says the ads are the main reason while they tune in on the event
Cost of Advertisement on Super Bow
Advertisers are paying a hefty amount of money to capture a sliver of audience attention and engagement on social media about the ads. A 30 seconds adverts costs 5 million dollars for this years Super Bow.
The hefty $5 million price-tag for a 30-second commercial is hardly a deterrent when you have a stage as big as the Super Bowl the granddaddy of all ad buys in U.S Sports Media events.
Digital Profiling
But a Super Bowl ad doesn't just end when its 30 seconds on TV are up; it triggers a response or behaviour, buzz in viewers brain or lives in ways they might not realise.
Companies are now tracking how consumers reacts on social media to their ads in super bow. they have gone another level up by studying how the brain responds to them. By one estimate, 78 percent of Super Bowl viewers will engage with social media while watching the game. When they do so, they will supply valuable data for digital marketing profile.
When individual audience members share an ad or make a comment about one on Facebook, Twitter or Instagram – either during the game or after – those posts are tracked and catalogued. They become part of a digital profiles for target marketing.
This year the ads theme seems to be based on how FUNNY it is. Some ads are just funnier, crazier or more emotional than others, creating a buzz before they even hit the TV screens on the big game day.
Image Recognition Engine
Super Bow advertisers are seriously interested in the party side of the game which is quite an interesting concept with the Image Recognition Engine. but when you display a product using social media you're are providing information that's valuable to advertisers.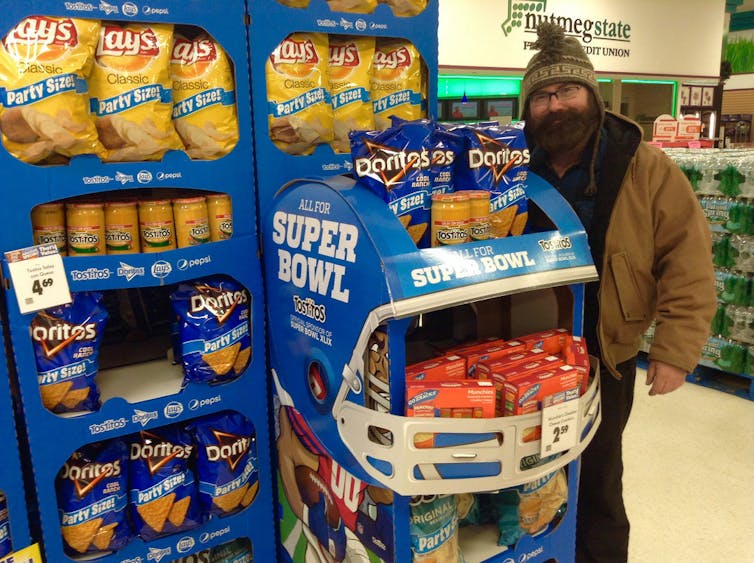 Image recognition engines can determine the preferred brands of users through the photos they post on social media. Mike Mozart, CC BY
Even an innocuous Super Bowl party selfie can be mined for advertising gold. For example, Coca-Cola recently used image recognition engine to identify people who posted pictures in which they appeared happy or excited with cans or bottles of their competitors. Coca-Cola then targeted these people with ads for their products on 40 mobile sites and apps.                                       So if you're holding a can of Miller Lite or a bag of Doritos, Budweiser and Pringles might take note.
The world of Digital marketing is just mind blowing and can only get bigger when all these data is collected analysed to produce more targeted, streamline and direct one to one marketing.
Amobee tracked engagement around the digital content put out by brands around their Super Bowl commercials between January 1 and February 1, 2018, and compiled a list of the buzziest brands this Super Bowl.
"The campaigns that have been most successful this Super Bowl season have the commonality of celebrity appearances," said Jonathan Cohen, Amobee's principal brand analyst.
Below are the star studded ads creating the most buzz leading up to Super Bowl Sunday
10. Squarespace
Watch the ads here
9. Coke
Watch this year's ad here
8. Doritos-Mountain Dew
7. Groupon
What the ad here
 6. Skittles
Watch a teaser of the ad here
5. Bud Light
Watch it here
4. Amazon
Watch the ad here.
3. Pepsi
Watch the ad here
2. Tourism Australia
Digital engagement for the brand is through the roof, and has increased by 1,256%, according to Amobee.
Watch the ads here.
1. Budweiser
According to iSpot, Budweiser 2017 ads "Born the Hard Way," which highlighted its founder's immigration story, was also the most digitally engaged one out of the 170 Super Bowl ads and teasers that were released. This year Budweiser is still the leading brand in Digital engagement for this year Super Bow ads, top in two year running.
Watch this year's ad here
So all in all The Super Bow is a superb digital marketing heaven to advertisers, the over $5 Million price tag  for 30 seconds adverts doesn't deter the advertisers, and to make the best use of the slot they have brought to town big screen super stars into the adverts.
The Super Bow with no doubt will be the single biggest sporting event of the year, digital advertisers heaven and the grand daddy of all Media Sporting Event.
---